Who are you?
CustomFetishVideos.com provides custom videos to private collectors, fans and interested clients that are looking for very high quality fetish videos. Our production company is called Anatomik Media. We are located in Los Angeles, CA. Our main focus is providing a fun and easy way to fulfill your innermost fantasies and a way for fetish video collectors to have something made just for them.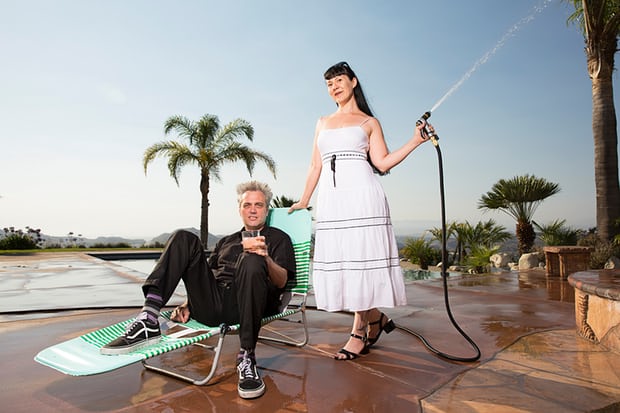 We are capable of handling everything from solo/POV scenes to larger budget productions with 20+ actors. Not sure if we can do what you need? Just ask! We like to work closely with our clients on the best way for them to get their video produced.
You can find out more about us by visiting AnatomikMedia.com or check out this Guardian article about us: Nothing is too weird
What can I customize on my video?
Basically anything! We offer the option to have exactly what you want in your custom video. This includes the perspective, model, wardrobe, situation, dialogue, fetish, location, and more. Send in your script and any important details, including desired model, length, wardrobe, props, or anything you feel might be important to get your idea across. Samples are welcome!
How close to my script will my video be?
As close as possible. We will try to execute your script to the best of our abilities with the ultimate goal of exceeding expectations.
Something to consider: There are sometimes instances where we may need to take a bit of "artistic license" on set and alter the script in the filming process. This can happen for any number of reasons. It might be something as simple as a wardrobe malfunction where we need to replace an item or work around something in the script that we don't have available on set.
Actual video running time may fall short or exceed the estimated target running time due to logistic or creative reasons. While we will make every reasonable effort to meet and exceed our target running time, we cannot make any specific time-length guarantees.
How much is a custom video?
Our video pricing is determined by several factors. Depending on the request, we have several different packages to fit all kinds of budgets.
Before we can give an accurate quote, we will ask you for all of the details you can provide so we can get an idea of how our production will go. Model type, actions performed, props needed, etc all help in determining the time and cost involved in producing your shoot.
Quotes are generally given within 2-3 business days, once we have all of the pertinent information. Occasionally the process will take longer depending on the complexity of the project.
Custom video pricing information
IS THERE ANYTHING YOU DON'T PRODUCE?
You can see from our video selection that we're open to a very wide and wonderful world of fetishes! 99 times out of 100, we'll be excited to make your custom!
There are few things that we either can't shoot for legal reasons, or we're not comfortable with producing. We don't judge anyone for fetishes we won't produce, it's just our choice not to participate. To find out more, see our blog
here: Fetishes we don't produce
How do I pay?
When we have agreed on the price and details we will send an invoice for the balance due. We accept several methods of payment including bank wire, credit/debit cards, bitcoin and money orders. Contact us to see if your preferred method is available. Usually a deposit of 50%-100% is required. Exceptions can be made on an individual basis.
How do I get my video?
Completed videos are downloaded from our server. We send links via email when your video is ready.
How long will it take to shoot my custom?
Shooting times vary – sometimes we can schedule a shoot in a few days, sometimes it takes a few weeks or more. It mostly depends on the model availability and schedules. Being flexible on the models often helps in getting a video quicker. Regardless of time, you are always updated on when your shoot will occur.
When do I get my video?
After the shoot, most clients can expect their video within 5 business days. Some videos may require extra attention or editing time due to special effects or complicated shots. We will give you an approximate day to expect your video in that case.
What model is available for my custom?
We have a variety of talent available to us from fetish models to adult performers and porn stars. Our models directory is available here: https://customfetishvideos.com/models
Can I upload the video for my friends to watch?
When you commission a custom video, you are paying solely for the right to watch the video. While we understand if you want to show the video to your friends as a fun thing to do on a Saturday night – uploading to tubes, sharing on social media, making copies for distribution, etc is prohibited.
What rights do I have to my video?
Private custom clients do not receive any documents related to the shoot, ID's or any other identifying paperwork. Unless otherwise discussed, Anatomik Media retains the rights to all custom videos and any video created could be used in a compilation, sold on our website or sold to another entity. Please contact us for details if you need an exclusive video.
Can I get it in this format?
Custom video shoots will come in the format of your choice. We tend to output mostly mp4 but you can have any format you need.
Can I send props to use in my custom?
Yes, we are able to accept wardrobe and prop items mailed to us.