Custom Femdom Videos – Four Important Aspects
Female Domination AKA FemDom is a huge fetish… So big, in fact, that when clients come to us to produce a custom, we're typically already booked with a few different models perfect for the role. It's a hugely popular niche.
But what are the most important ingredients to producing a femdom fetish video? We've counted them down below:
#4 Casting is key to finding a believable dom
FemDom fetishists want to see the woman in total control of the man. That is, more powerful, more dominant. If you cast a petite porn girl, or a light-voiced newbie, you're going to have a hard time convincing anyone that this girl is dominating anybody. That's not to say that petite girls can't be directed into being a great dominatrix; it's just that it's easier to cast a model who physically conveys the presence of a dom than it is to direct a model into becoming one. That being said, a husky voice and a large or muscular body are definitely not requisites to being a great on-camera dominatrix, and in fact, many revel in the idea of a smaller woman taking control. We're mostly talking about attitude and personality.
#3 Camera angles
When shooting femdom, many times we do like the mainstream movies do when it comes to revealing power and threat and domination: shoot from below. When you shoot your female from below, to the audience's perspective, she's "standing over them," which elicits a sense of domination or overpowering.
Conversely, when shooting the male in a femdom scene, we will often shoot the male from a higher camera angle. That is, looking DOWN on him as much as possible This leaves the audience with the sense that the male is out of control, diminished, relative to the female model.
#2 Leave no doubt of the male's submission
While it's vitally important in any femdom video to include a strong, powerful female to dominate the male, it's every bit as important to make sure that the male who's being dominated is, at all times, absolutely submissive to the dominatrix. True FemDom fans like not only to see the female take control, but to see the male in the video completely wither under the sheer, raw power of the dominatrix. And that doesn't mean in a fake way. If your male actor is "submitting," but in an unconvincing way (for example, sleepwalking through his lines or appearing to be unaffected in any way by the female's dominance), then the ultimate turn-on for the femdom fetishist will pack far less a punch.
#1 The female must stay in control at all times
There's nothing worse than a femdom video which features a strong, powerful, sexy dominatrix who doesn't know where to stand, how to angle herself, or where to find the light. In femdom videos more than perhaps any other type of fetish video, it's vitally important that models not appear to be "lost on set," or directionless. Making sure in advance of every shot and angle change that the dom knows her lines, her blocking, and her relationship to the camera is key for us. Small moments where it appears she's being either overdirected (too much fake movement) or underdirected (looking behind/past the camera to make sure she's on the right mark, etc.), can really add up to the audience / client feeling like the dom is out of control. And control is EVERYTHING when it comes to these kinds of videos!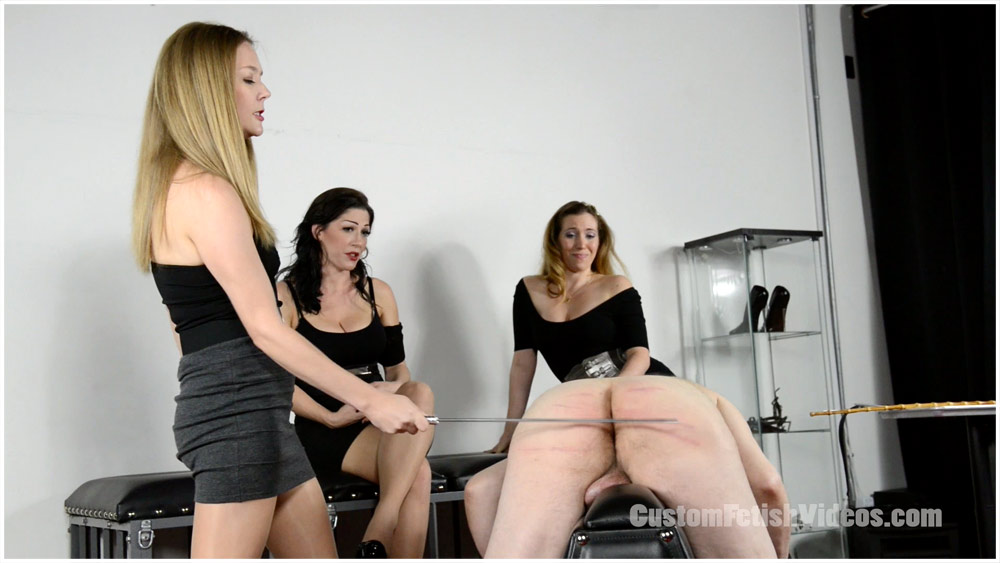 In addition, as most femdom fans will tell you, the best kind of domination is the TOTAL domination. That is, where the woman completely dominates the man through the entire scene, nonstop. If you are looking for a custom video where the female is totally dominating the man, then keep in mind these tips and tricks:
A) The femdom must always talk MORE than the man. When the man talks to much, the illusion of power is lost.
B) That being said, if you want the femdom to keep talking, absolutely, but keep in mind that sometimes the best, most kinky domination is when the woman says little or nothing at all as she dominates the man.
C) The femdom must never, ever let the man appear to take any sort of control.
Everybody is different though, as is every branch on the tree: bdsm, pegging, spanking, bondage, humiliation, you name it… But for overall female domination fetishes, keeping the female in control and the male completely her slave, great camera angles, and casting the right dom for your scene are a few good things to keep in mind.
Interested in a custom femdom video? Contact Violet and let her know!